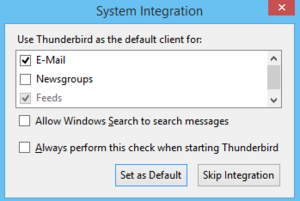 Remember you can click on any of the screen shots to view a larger version.

Download and install Thunderbird from: https://www.mozilla.org/en-US/thunderbird/
At the System Integration screen you should check the E-Mail box IF you want Thunderbird as your default Email program.
Make sure you un-check the "Always perform this check when starting Thunderbird" box.
Then click the "Set as Default" button to continue.