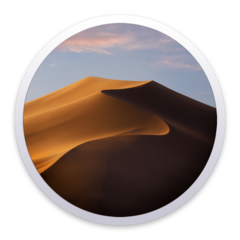 As they have done for the past several years Apple released their latest major OS release - MacOS 10.14 also known as Mojave in October of 2018.
Like every release this version will be compatible with fewer older Macs. Most every Mac built since 2011 is still supported however. But should you upgrade?
This release doesn't appear to be any slower and might be a bit faster in some ways and thankfully it doesn't seem to use substantially more RAM or disk space so those with limited resources should be OK. Still, we recommend only upgrading if you have 8 GB of RAM.
Mojave seems to be less buggy than most new releases so we recommend it from that standpoint. A few features will only run on newer hardware but most disturbing might be the features that Apple has removed. Some of these things were small things that very few will miss but some software will no longer run if not upgraded because of a lack of support for various features in Mojave.
OpenGL

and

OpenCL

support will be removed in

10.15

but the warnings are displayed now. The same goes for

32-bit

applications. If your software is not actively being developed start looking for replacements now!
Safari Extensions installed from the Safari Extensions Gallery are no longer supported.

App-store

only now.
Jabber support in Messages is gone (this was just dumb)
Integration with various

third-party

services is no longer supported. We will have to wait and see how much this impacts us.
Back to My Mac support is gone. There are

third-party

solutions but this was another dumb move.
Mojave has a substantial list of new features but most are really minor from the user's perspective.
Dark Mode - option dark background with colored text for most everything.
Stacks - a nice but only partial solution to a cluttered desktop. Stacks will coalesce similar items into a single stack that can be clicked on and expanded. We still urge you to keep your desktop relatively uncluttered for performance reasons.

Screenshot

and preview markups - a very nice feature in that you can now markup documents like you could before in mail and Preview from Finder previews. Quickly markup

screenshots

and drop them on Messages.
Dynamic Desktop - your desktop images can now change based on the time of day.

Meh

.
A new

Screenshot

Utility that is really not that much new but still a decent addition.
A few new Apps that were previously

iOS

apps. Home kit control etc. Nice if you used them.
Continuity Camera - take a picture with your

iOS

device and use it right away on your Mac.
Apple describes new App Store improvements. Some improvements but it is even harder to find less popular titles now. The OS updates have been moved into a separate updater which both better and more confusing.
New Gallery View in the Finder. Sometimes this view can be very nice but not a big deal for most.
So, should you upgrade? If you have 8 GB of RAM and have a compatible Mac we say yes. While this isn't a big upgrade from the perspective of features it seems solid and if it doesn't remove a feature you needed it can be a bit of a productivity improvement.