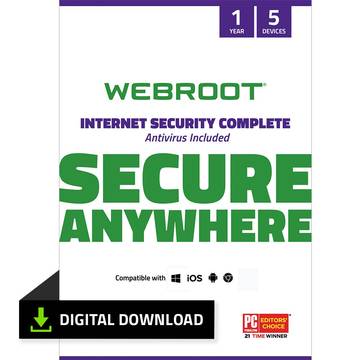 Cloud-driven advanced protection against viruses and malware offering full protection against all of todays sophisticated malware threats including Trojans, keyloggers, phishing, spyware, back-doors, rootkits, zero-day and advanced persistent threats

Built in Identity & Privacy Shield stops data being stolen or captured when using the Internet and the outbound firewall also stops malware stealing data by sending it out over the Internet

No need to worry about or run updates. Cloud-driven security intelligence means your endpoints are always up to date and protected when on or offline

Built in automatic remediation means infected endpoints are repaired automatically reducing the need to ever re-image a machine or lose user productivity. Superfast installation means your fully protected in seconds

Simple to use web console lets you manage user endpoints anytime, from any browser and FREE web and telephone Support is included in the price
NOTE: if you choose to purchase the downloadable version the serial numbers will work on BOTH PC & Mac.